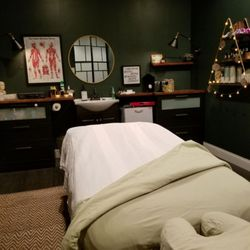 *$10 Discount when another Massage is booked within 4 weeks of last treatment*
Begin your Journey by sipping Water infused with Essential Oils. Head to the Meditation Area filled with Oils to Smell & Crystals to Hold. Think of Wishes or let go of concerns by placing the Worry Stone to your Heart. Light Incense as a Prayer to Above. Complete with a Massage:
30 minutes ~ $59

45 minutes ~ $79

60 minutes ~ $99

75 minutes ~ $119

90 minutes ~ $139

120 minutes ~ $179
CUSTOM THERAPEUTIC MASSAGE:
Relaxing & restorative massage which combines base Swedish techniques & may include Deep Tissue, Aromatherapy, Cupping, Thai Yoga, Shiatsu Acupressure, Cranial-Sacral Release, Trigger Point, Sports Stretching &/or MyoFascial Release. Each session is a custom blend of techniques depending on your consultation.
FACIAL TONING MASSAGE TREATMENT:
Designed to melt away stress. Enjoy the many benefits of Shiatsu & Massage Techniques solely focused on the Head, Neck, Hands & Feet. Is great for alleviating headaches, sinus issues, neck pain, tension & stress.
REFLEXOLOGY MASSAGE:
A type of bodywork that focuses on applying pressure to the specific nerve zones in your feet & hands. Unlike other foot & hand massages that intend to mostly relieve tension in the feet & hands themselves, reflexology is a far more in-depth science that aims to harmonize your entire body. According to reflexology, every part of the human body is mapped into your feet & hands.
PRENATAL MASSAGE:
Please provide a doctor's note. Must be in second or third trimester.
The Pregnancy Cushion allows you to lie down on your stomach, decreasing weight-bearing forces through the spine. It is an extremely convenient & comfortable way to relieve the pressure & pain that can result from the added weight & strain pregnancy adds to the body.